Wow… It feels like a lifetime ago that we were together surrounded by lights, music, sand & mystical experiences. The time has finally come for us to reunite under the one thing we all irrevocably have in common: music.
This will be our first appearance at a festival since Emissions Festival 2019 – and dare we say – the wait was worth it :). Check out the full lineup below!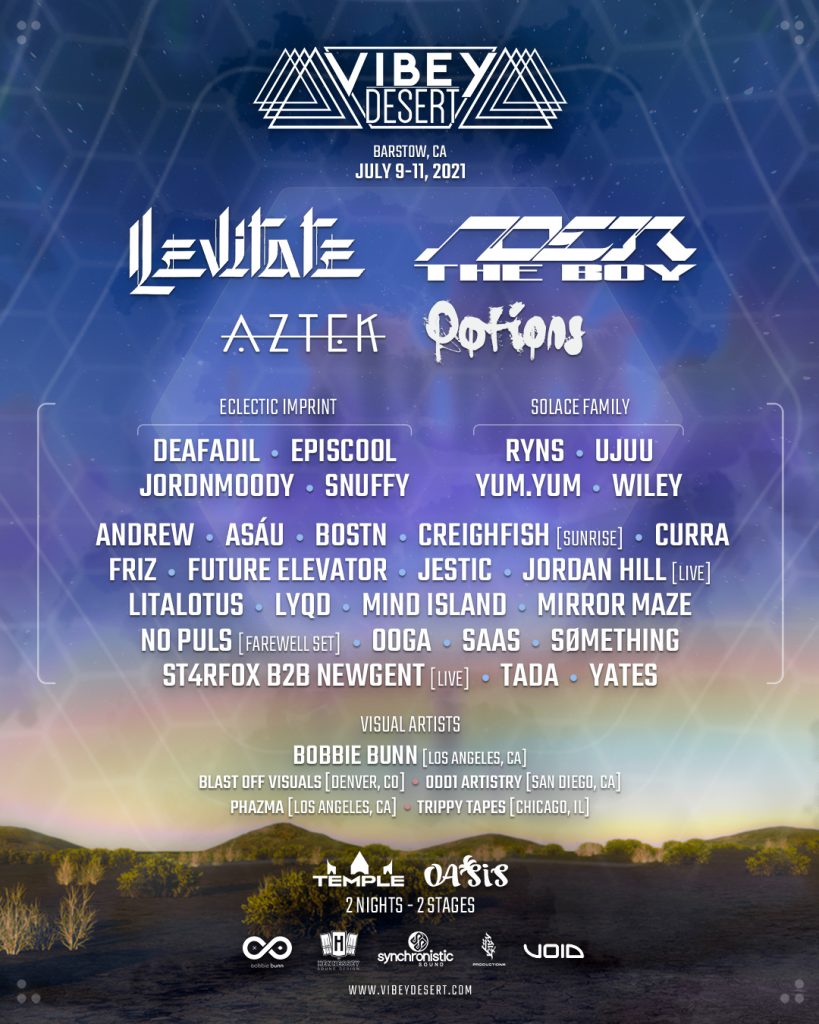 Can you imagine four more innovative and pioneering headliners for a bass centric festival in the desert? We sure can't! The fact that artists like Noer the Boy, Levitate, Aztek & Potions all will receive headlining sets at a reputable & like-minded festival shows just how far these four in particular have come along their musical journey thus far.
Vibey this year also brings the spotlight over to Eclectic Imprint & Solace Family who have been putting in WORK all through the pandemic, not letting anything stop their progress and dreams. Eclectic Imprint will feature hot & heavy sets from Deafadil, Episcool, Jordnmoody & Snuffy while Solace Family will feature just as heavy ones from RYNS, Ujuu, Yum.Yum & Wiley.
Personally, when the headliners look amazing that'll be enough for me to purchase a ticket but the undercards / supporting acts are where the bread and butter should be if the festival is curated properly… and in case you didn't see above – check out this bread and butter!!! You'll be getting exclusive sets from all of the following:
Andrew, Asau, BOSTN, Creighfish, Curra, Friz, Future Elevator, Jestic, Jordan Hill, Litalotus, lyqd , ooga, saas, something, st4rfox b2b newgent, tada & yates.
It's hard to have a more stacked festival specializing in bass / experimental bass / freeform / wubs… whatever you wanna genrify this as – let's just stop there and call it music as we brace ourselves for an unforgettable weekend.
Check the links below to purchase tickets, and be on the lookout for a few spotlight interviews we'll be doing with various artists playing this year's Vibey Desert!
Vibey Desert
Tickets – https://nightout.com/events/vibey-desert-2021/tickets
Twitter – https://twitter.com/VibeyD
Instagram –  https://www.instagram.com/vibey_desert/
Audius – https://audius.co/vibey_desert/