Listen/Download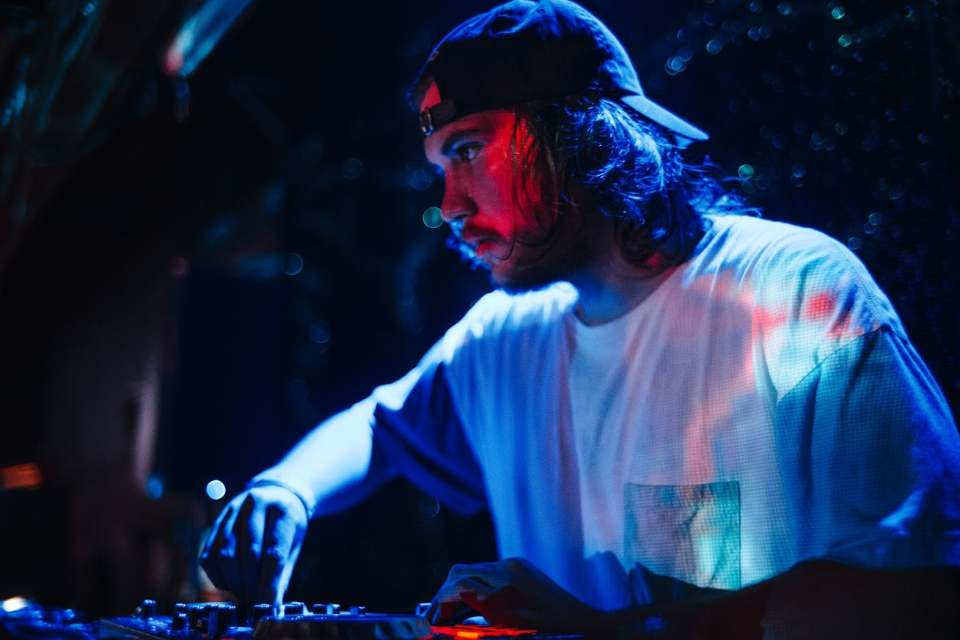 Interview curated by our founder Michael.
______________________________________________________
Phuture: MISTUH B-DOS!!! It feels like years since we last released together and upon checking it's literally been over 2 years somehow. Your last track we dropped together was 'time' as part of issue fourteen | arrival and here we are already with issue eighteen.
Can't wait to pick your brain a bit – let's start off with what you had for breakfast.
B-Dos: I don't really eat breakfast, lol… I guess just water and adderall…

______________________________________________________
Phuture: Give us a run down of what the last two years have given you? How has the pandemic affected your life / how has your sound changed / etc.
B-Dos: In the last 2 years… 
I became a dad.

I've taken a new approach to music (I was in a biiiiig writer's block for almost a year because I was trying to make music that I thought would do good at shows, and I was trying to make music I thought other people would like… I realized that I've gotten as far as I have now because give or take 2 or 3 songs, I've only released songs that I was genuinely happy making and loved the song).

I've gotten to meet and become friends with some more big artists that inspired me in my journey as an artist.

Got covid, lol…

There's probably more, but I can't think of anything at the top of my head.
______________________________________________________
Phuture: Let's talk about 'Wind'. What a creative, energetic & overall electric listening experience. Mind going on a deep dive of what inspired this track and what you hope the listener takes away from it?
B-Dos: 'Wind' is actually an interesting one… every issue, you'll always ask for a track, and I never make the deadline, because I would start something and then keep changing and changing and deleting, and I would just never get anything done. On this one, I remember you had asked me for a track, and then I sent u a little 4 bar loop, you liked it, and then i kinda just built onto it and finished it super quick for you. (you always find a way to inspire me, mikey wikey).
I think this one might be the first track that I've used granulator in as well (I used it for vocal intro thing…), I've been trying to get into that more, which is fine, but it's a little too random sometimes.
This track is also the first track I've gotten to finally use synplant for. It's probably my favorite plugin now, tbh…
______________________________________________________

Phuture: What are 3 things that most people might not know about you?
B-Dos : 
I have no musical background and don't know really any music theory, i kinda just guess for all my melodic stuff lol…

For the past month or 2, I've been too busy, but I'm super big into day trading/scalping options. Once you get the hang of price action, and watching how the market moves, it's super fun. It's like you're playing a video game that can bankrupt you, but can also buy you a house, lol. (

DISCLAIMER: I am not a financial advisor. Do not take anything I say as financial advice. Consult a professional investment advisor before making any investment decisions.

)

I have a full-time job working for a Tech company dealing with very high value customers, and lead calls with CFOs and CTOs for some companies that we all use a lot of every day.
______________________________________________________

Phuture: Let's say that money is no object, and you have 30 days completely free to spend in one location of the world. Where would that be and why?
B-Dos : This one is tough… I think it would be somewhere I had the ability to try a multitude of different authentic cuisines from around the world and also be with people I love and care about (I could bring all those people with me since "money is no object"). The only place I think that would fit that description to my knowledge would probably be New York. Every time I've been lucky enough to get booked out there, it always amazes me. It's like everyone from around the world kinda just gathered there, started doing things they did in their country of origin and kinda just vibed out, haha.
______________________________________________________
Phuture: What's your favorite song on Phuture Collective?
B-Dos : Can't do a favorite, lol. I'll list 3 songs and why though…

I used to post my music on a music forum when I first started releasing, and when I had like 70 followers, I had gotten a follow, repost, and like from Alex Martian, and then right after, Floret Loret had liked and reposted the song too, and I saw in Floret's bio, "@phuturecollective", I immediately went to your page, clicked on a random song, and found '

przm X CCIV – Sassafras', and I loved it, I had never heard music like this at that time, after hearing that, I joined your discord and the rest is history.



'

anti.negative – other side' This song was on the same issue my first "Phuture Collective" release was on. anti.negative has some of the best sound design I've ever heard, and this song is just one flex on everything we call "Bass music", it's more than 3 years old and is still so unique compared to a lot of what everyone else is doing now.



I have to put in some DIVERSA, even though this wasn't like the original original release of the song, it's such an iconic song from him. "

DIVERSA – Crow

". It has so much feeling and gives me chills every time I hear it. 
______________________________________________________
Phuture: Ask us a question!
B-Dos : In your eyes who has done the most for the scene that has developed into where we are now, I guess the trap scene or underground scene? There are so many, but you have to pick one.

Phuture: I would probably have to say Mr. Carmack. He helped spawn / was a part of the same culture as Tsuruda / DIVERSA / Courteous Fam / Sam Gellaitry . The latter four spawned so many subsets of genres and collectives. Carmack has always been someone to just DROP stuff without notice, or if he did plan out a project it was always action packed. He's continued to switch into different genres, continually puts underground rising acts on his tours / support & is helping the decentralized streaming movement. Most any interview you can get your hands on he goes over tips on how to level up as an artist AND continually spends time with the underground community to help everyone rise up together.

______________________________________________________

Phuture: What does the next year look like for ya? Any album / shows / streams / travel plans being put together?
B-Dos : 2022 is gonna be such a dope year, I got some releases planned solo releases and collabs, got some label releases, got some shows planned. A show I'm doing very soon is in Denver at the BlackBox, I'll be headlining for the 'Spisces Season" release party, which is a compilation the Spicy Bois are doing, and it's gonna be filled with music they normally don't release, which is gonna be sick.

______________________________________________________

Phuture: Name 5 artists who are going to rapidly emerge in 2022!
B-Dos : 
P A T H

, even though he's already kinda emerged, his collection of unreleased he has planned for this year is some of the best sound design I've heard from anyone. His sound design inspired me a lot in my last release "Transform" on the 2nd drop. I just sent him stems again for a new collab, so maybe that's gonna be something that drops in 2022, maybe.

Another artist that has already been killing it, but 2022 is not ready for him, and it's my favorite Australian

SILVA

. He has been an early inspiration of mine since I started making music, and what he's sitting on right now is definitely gonna blow this man up even further. (dare I say, AMERICAN TOUR??? Maybe? hopefully???) I'm happy to call him one of my best friends and favorite artists. We have like 5 collabs we're working on right now, too.

My main man from da island of Tennessee,

Jake Clarity

. He actually has a release with you guys on Presently Lifted. He is doing some crazy stuff, and recently, he dropped a song called '

Resurrection

' and it lives on my set list now. We also have a collab we've been working on that I have some big plans for.

Another great artist that is on the come up with

MAR

, he's been killing it recently, and, he's only gonna grow more and more. When he came to Nashville last time, him and his girlfriend came over to spend a night with me and Brenda, and we cooked up not only some vegan tacos, had a drunken studio sesh. Got a collab with him that's pretty much done, I think we're gonna be dropping that one in 2022. (:

Jack Flora

is another name I think everyone is gonna see a lot more of in 2022. He only has 3 songs on his soundcloud right now, but he is sitting on some heat. Not only can he do chill vibey stuff, but he's doing some really cool bassy stuff and has some experimental melodic stuff too. You better believe we got a collab in the works. 2022 will definitely see that one.



______________________________________________________


Phuture: Anything else you wish to mention before we part ways until next time?
B-Dos : I recently discovered a new and upcoming horse delivery service. Instead of doing deliveries by Car, Truck, Freight, and airline, they use horses… They are currently in the process of breeding not only the fastest, but the most dazzling horses you have ever laid your eyes on. I've spoken with them about their service, and they informed me that for the past decade, they have developed their own patented gene editing technique by combining bloodlines from high-performance American Quarter Horses with an ultra-high endurance gene that is created through the breeding of native Mongolian Horses. They have also said that, these horses have been proven to produce the highest quality of bred foals in their line, which is why they are so very excited to expand this business to include horse delivery services.
Do you have any other alternatives to such a service?
______________________________________________________
You can explore more B-Dos here:
_______________________________________________________