As we try to type this article up please bare with us – it's extremely difficult to keep our fingers from shaking in anticipation for what was just announced.
After witnessing last year's experience showcasing dozens of our favorite artists (Josh Pan, X&G, Woolymammoth, Tsuruda, Hapa, Huxley Anne, Suma, Metapod, Penny Wide Pupils, Mike ILL, Secret Recipe, Craze & Sober Rob) we honestly wondered how anything could top that.
But they topped it. Oh, my did they top it!
This year they feature a GIGANTIC lineup with artists such as Mr. Carmack, Ivy Lab, Rage Logic, Sumthin Sumthin, WHIPPED CREAM,  Gangus, Huxley Anne, Headphone Activist, Milano, Suds, Kozmo, Pilz Beats, LITTLE SNAKE, Mike ILL, Episcool, Juan, Khanda, Kahji, EYEMC & more. We didn't even mention some heavy hitters like Rusko & Bauuer as with Minnesota – and that's barely half the lineup!!
Check out the full flier for Emissions below: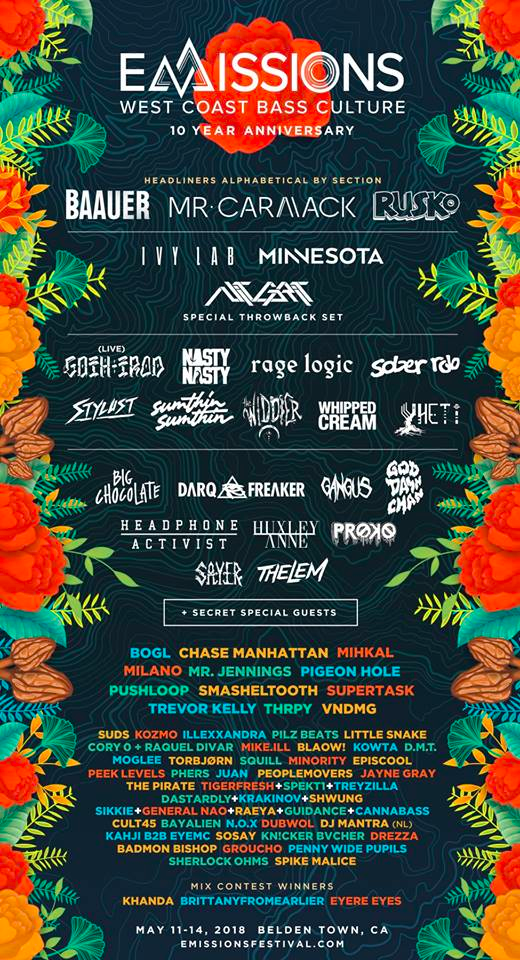 You can catch us there – just look for the men and women wearing Phuture Collective T-Shirts – and we'll hand out some free stickers and share our awe and joy for one of the best lineups to hit the nation.
Emissions West Coast Bass Culture 2018 links:
Facebook event page – here
Facebook Group – here 
Tickets / Website – here
Checking out & counting down the days to Emissions West Coast Bass Culture Festival 2018.
<3 Phuture Collective