Listen/Download
Pictured below: the smoked-turkey lover, skittles enthusiast & creator of 'niccibounce':  chromonicci.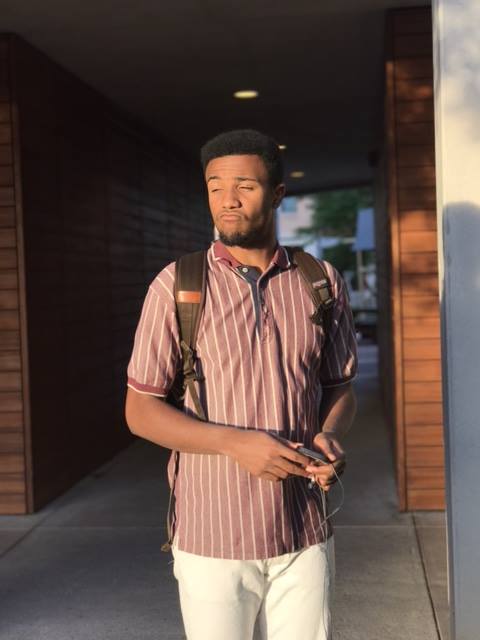 Interview curated by Michael of the Phuture Collective team.
______________________________________________________
Phuture: Why hello there chromonicci. :). It's been a few months since we last exchanged words via an interview but my oh my, much has changed! Before we get into those changes, tell the world what you had for breakfast!
chromonicci.: Hey there world! Well I've just recently started getting up early enough for breakfast lol. But yeah, normally I eat pineapple, grapes, and some melon with a cup of apple juice or some chocolate milk! O and some french toast if I can make that happen!
___________________________
Phuture: So the last time we saw your face you were getting jiggy with it at the Night Owl Collective showcase alongside Chuck Sutton & m-cubed for SXSW.  Didn't you also have a Soulection showcase that week as well?! Tell us about that experience.
chromonicci. : Was ABSURD. Meeting some of my great friends in real life, and making new friends was an unforgettable experience. For that SXSW was great! That following week I did have a Soulection showcase! IT WAS BONKERS. The venue was sold out, and there were like 750 people. When the crowd was feeling one of my original songs I was like WOW this is so tight hahahahaa. I also took a photo with Joe Kay and that was crazy. But yeah what a frikin experience.
___________________________
Phuture: Since we're on the subject let's talk about 'Cerulean.'. For those that weren't aware we had been planning an EP for almost a year & this was the only track from the album that made it when your equipment and data got stolen at SXSW. Obviously the album took a halt, alongside dozens of other projects I'm sure. How has the support been getting back on your feet after that incident? How hard is it to start over?
chromonicci. : Yeah… Honestly I'd worked so hard to cultivate a vision with this. The first time I'd tried to illustrate a color with music. Was so excited to do it, but honestly man that incident really took the wind out of my sails. But MY GOODNESS the community was really there for me. They help raise money for me to get my things back, making it so much easier to get back on my feet. However, this starting over thing SUCKS. There was so much music that I was working on for the world, but HEY it's whatever and I'm coming back stronger than ever!
___________________________
Phuture: The past few months you landed Night Owl Collective & Film Noir Sound releases alongside some major collaborations with artists like DECAP & Ordnry Yngstr. Tell us about what's next!
chromonicci. : AGH WHAT A TIME! Still can't believe that some of my most sought after collabs are coming TRUE! Right now I'm trying to get back into releasing consistently, and showing people that I'm ok lol. Also trying to sing more on my stuff because I LOVE to sing!
___________________________
Phuture: The entire world is on the cusp of discovering you – which means lots of touring!! What cities do you want to play shows in this year? What about next year :)?
chromonicci. : WOO wow. Honestly I want to go all kinds of places. In the States I'd love to hit up New York City, maybe Montclair (that whole east coast really), and then LA, San Fran, Portlannndd, and all of the West Coast. Next year tho, I'd love to see about going international! I want to play London, Brisbane/Melbourne, and maybe do Amsterdam or Brussels! O and maybe Seoul!  
_________________________________________________________________
Phuture: If you could have any sandwich of your dreams, what would be on it?
chromonicci. : HMM, smoked turkey/ham with pepper jack cheese, with a real buttery bread that's just TOASTED. _________________________________________________________________
Phuture: What gets you out of a writers block? What causes them?
chromonicci. : Most of the time, making a joke track or a decompress track helps me see that music isn't all about the next release. The journey is so cool, so making a quick little bounce without care can really spark some creativity. GOSH WRITERS BLOCK FOR ME IS CAUSED BY SITTING ON TOO MUCH CONTENT. It's so annoying because I feel like I have a lot of music to share and can't so all I can create is things that sound similar to what I'm sitting on.
_________________________________________________________________
Phuture: We've noticed a lot more of your voice lately in your music!! Can we continue to expect that from future tracks of yours?
chromonicci. : YES OF COURSE 🙂
_________________________________________________________________

Phuture: Before we end here let's take a minute to go over which 5 artists will take over 2018. Take your pick!

chromonicci. : Gotta go with Capshun, Ooze.., oak, Just Adam., and summet!
_________________________________________________________________

Phuture: On behalf of Phuture we want to congratulate you on your journey thus far and give thanks for your support and participation the whole way through! Let it be known to the world that we are all just getting started and there's so much in store!!! Anything else you want to mention before we part ways until next time?

chromonicci : ENJOY AND BE READY FOR MORE MUSIC FROM ME SOON <3
_________________________________________________________________
Explore more of chromonicci. here: